As an agency, you can conveniently onboard new clients yourself from your agency dashboard. An onboarding guide will take you through the steps necessary, including importing a product feed and adding company information.
Adding a new company
Adding a new client and creating a demo account is free of charge, without needing a payment method.
In order to onboard a new company, simply click "Onboard New Client" inside your dashboard to add a new company. This account will automatically be assigned to your agency, and you can invite relevant users to the account, be it the client or your coworkers.

A pop-up window will appear, prompting you to add the client's information.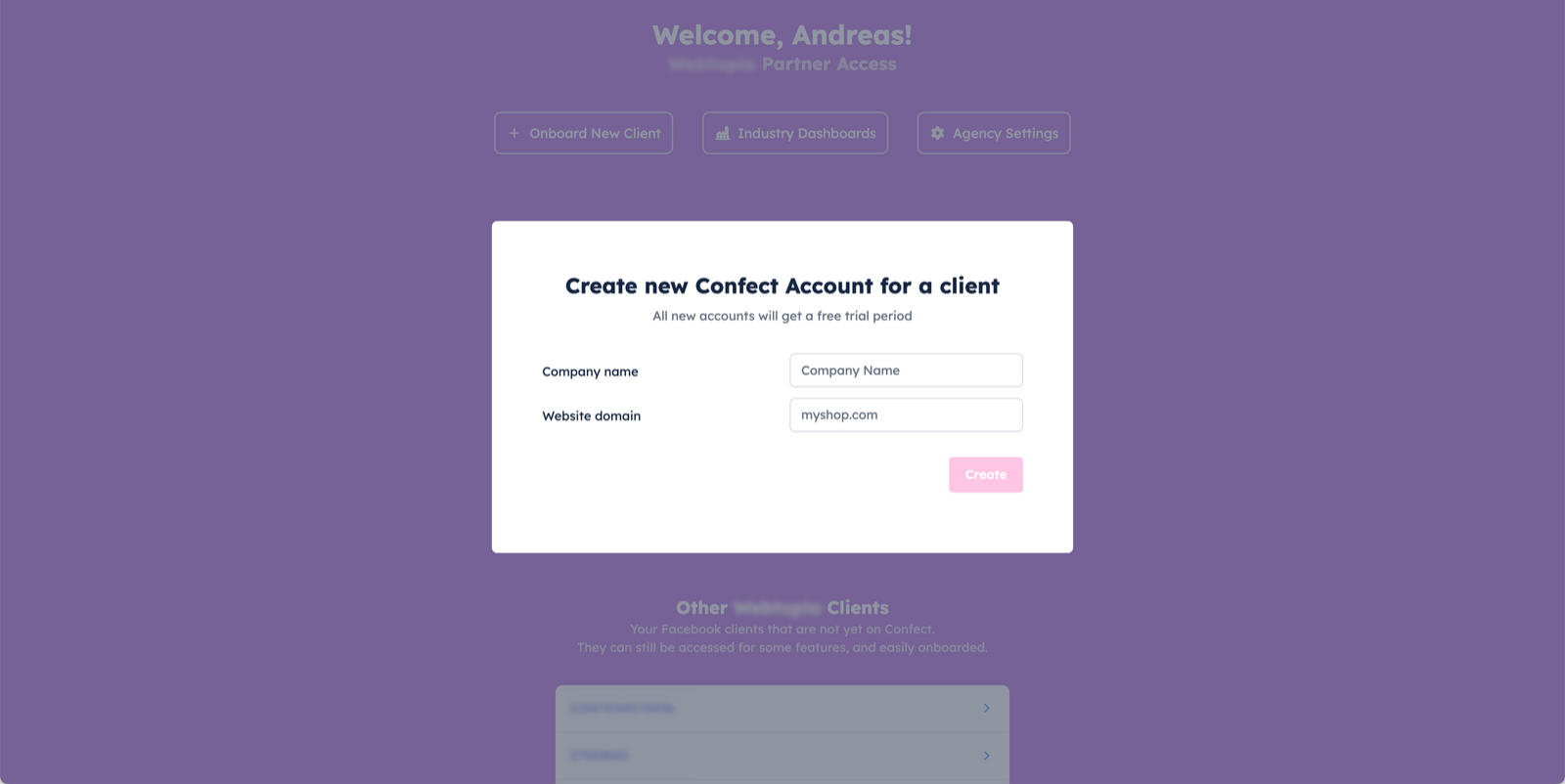 After this, you will be taken through the steps necessary to set up the account. This consists of integrating the Facebook Ad Account and uploading a product feed to Confect.
Demo mode
After creating the new company account, it will automatically be in Demo mode, even without adding billing information or starting the free trial. This means that a product feed can be added, and designs can be created to show your clients how Confect works on their own products.
However, only a maximum of 50 products will be loaded from the feed for demonstration purposes.
Confect Analytics can also be accessed free of charge with a limited dataset, the analytics only going back one month.
30 day free trial
Each new company you refer can try out the full version of Product Feeds and/or Confect Analytics for 30 days.
To activate this, you need to go into "Settings - Features & Pricing" and start the trial. The trial will only be active after billing information is filled out and a payment card is added.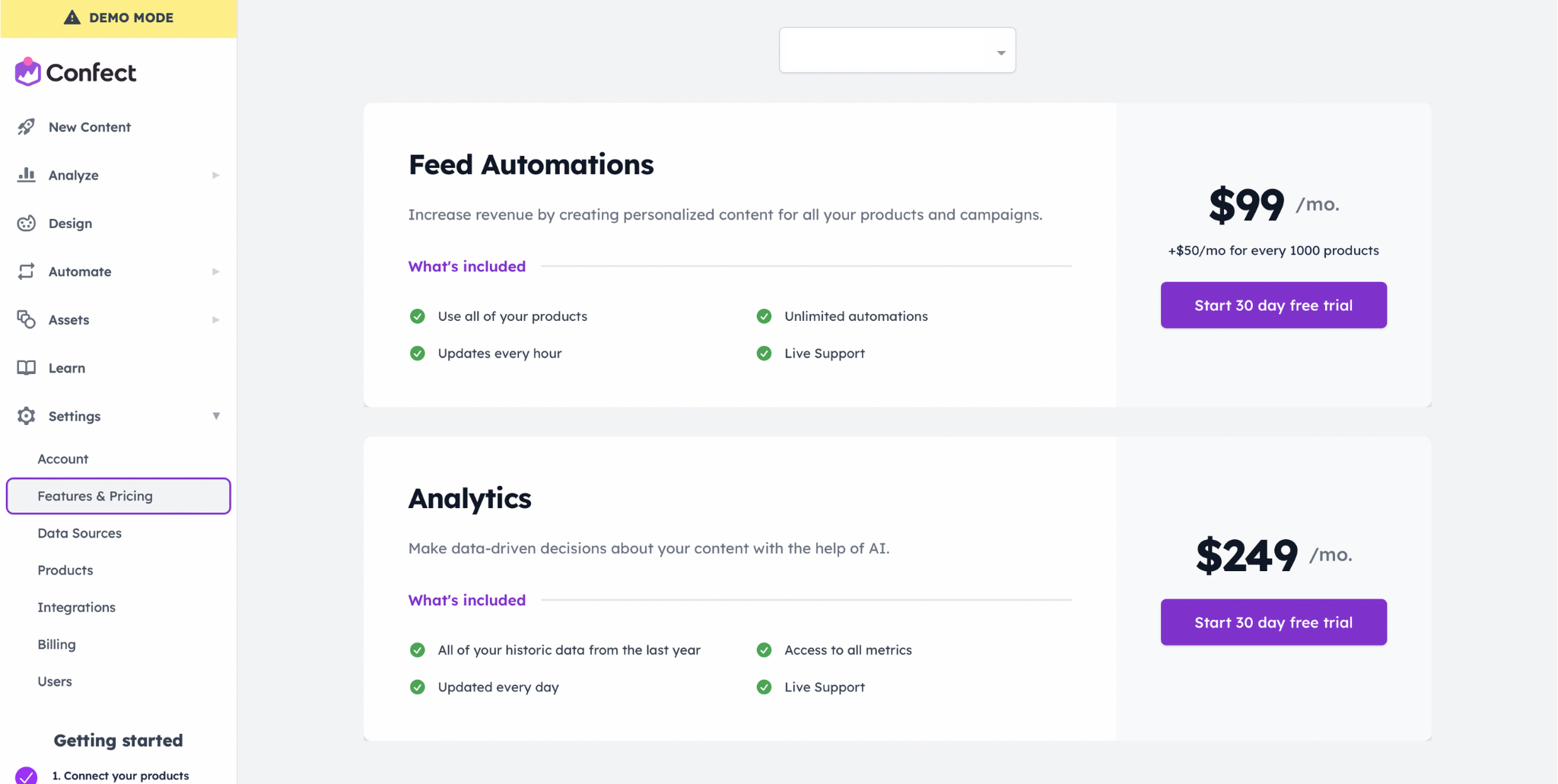 However, this card will only be charged after the 30 days pass, and you can cancel anytime during the trial period.
Getting help from Confect
When you onboard a new client, you can ask the Customer Success Manager, through the live chat, to create a couple designs in order to pitch the service to your client, or to help with any obstacles.
Please make sure to do this at least a day or two ahead of time.
Note that the Customer Success department will create on-brand designs only to demonstrate the features and possibilities of Confect to new companies, but does not handle content production on a regular basis.
It is also possible to request advice regarding design and implementation, as well as get help with debugging product feeds or using the platform.
Inviting users into Confect
It is up to you as an agency whether you want your client to have access to the Confect account, or whether your agency will be fully handling this.
You can manage and add users with access to the account under "Settings" and "Users". To add new users, click "Invite user".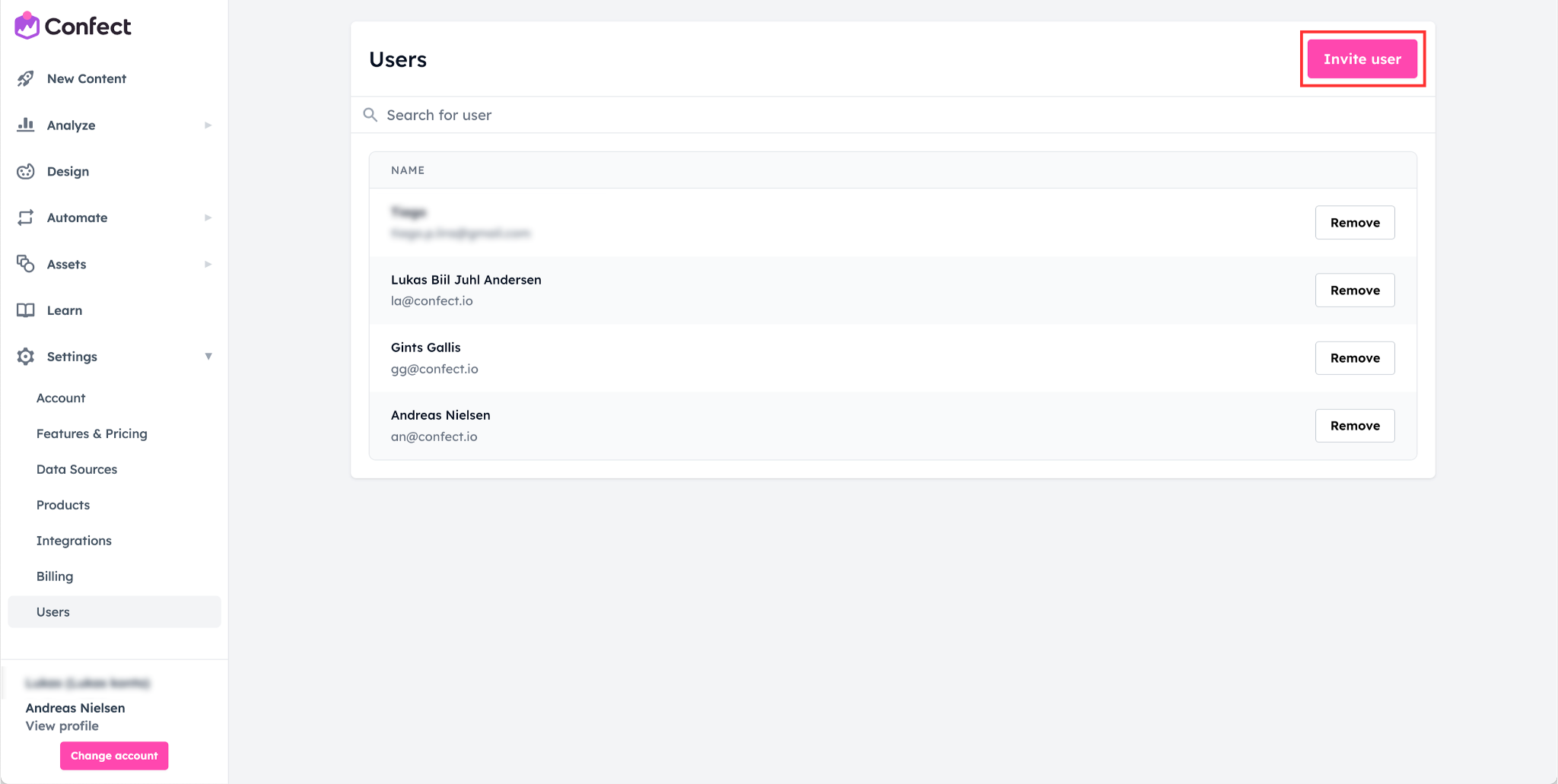 The newly invited user will receive an email to log into Confect.
Users from your agency
All users with access to the agency account will also be able to access the client's account through the agency overview dashboard, making for an easier collaboration.