Inside Confect, your agency will receive commissions for all paying clients referred by you.
Commission details:
Your agency's commission accounts for 20% of the monthly payment

This commission is recurring, so every time the client pays for a subscription, you receive 20%.

Commissions are paid out on a quarterly basis, specifically the first week of January, April, July and October.
Registering new clients
Onboarding a new client through your agency dashboard will automatically attribute them to your agency account, giving you access from your overview page and making you eligible for commissions.
In order to do this, you first need to click "Onboard New Client" in your agency dashboard, and follow the steps to set up the product feed and account.

Once the client is ready to start the free trial, you will need to fill out the "Billing" section under "Settings", add the company's information and payment card, and activate the trial under "Features & Pricing..
In order to receive commissions, the client needs to finish the 30 day trial period and become a paying customer.
Payment details
Our finance department will reach out to new agencies regarding the bank and company information, before making the first commission payment.
As mentioned above, payments are made in the first week of January, April, July and October. So you can expect our finance department to contact you before that time.
If you'd like to provide these details sooner, let us know through the live chat.
Commission history and overview
You can access a full overview of the current number of paying clients, as well as their expected monthly commissions, by clicking on the "Agency Settings" button inside your agency dashboard.
Note that this number may change if your clients change the number of products in their feed, or activate/deactivate features.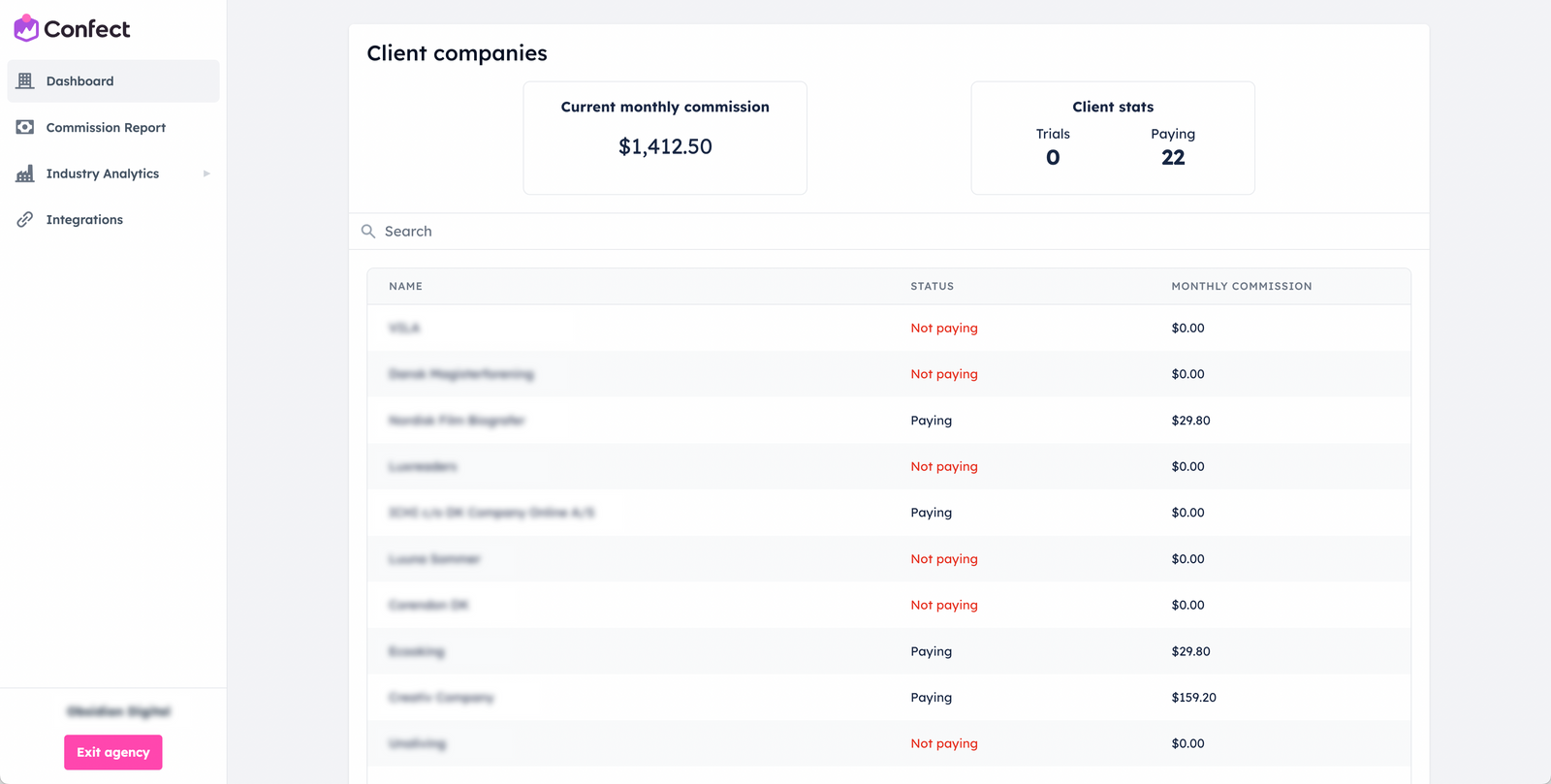 You can also get a report of all the commissions obtained in the past. 
You can filter this based on the period and see the commission amounts for each of your clients.